10 January 2020
Working safely with lithium ion
There is a strongly increase in use of lithium ion batteries. Consider, for example, the use in power walls, electric cars, internal transport and e-bikes. Concern about this battery, where much more energy can be stored, is increasing rapidly. More and more is being written and spoken about, but workable information is hardly provided. There are also places where people work with lithium batteries where there are no extinguishing agents that are suitable for stopping a thermal runaway.
It is of great importance for organizations and companies that they give their operational employees a solid foundation on how to work safely with lithium-ion batteries. After all, today it is more important than ever for employees to be able to recognize hazards, to correctly assess risks and to take the right measures. In this way, the organization contributes to a safe working environment for employees and visitors, and this is also the way to keep continuity as high as possible in the event of an emergency.
In close cooperation with Battery Safety Solutions, Elfa offers solutions for the safe transport, storage and handling of lithium-ion batteries. Our team of experts offers knowledge and solutions to your challenges and deliver results. Solutions that allow employees to excel and work safely, including customized training for the safe handling of batteries. Elfa offers a practical course "Working safely with lithium-ion batteries" in which aspects of safety risks are dealt with.
Battery Safety Solutions is established and cooperates with Van Peperzeel in Lelystad. Van Peperzeel is the largest battery sorting company in the Benelux. You will receive lessons from the experts in the field of lithium-ion batteries.
In addition to the training courses, Elfa can also provide you with N-EXT extinguishing agents. The N-EXT fire extinguisher is very suitable to use with lithium battery fires. The use of this extinguishing agent for lithium fires ensures very rapid cooling, this is the only way to stop a thermal runaway of a lithium fire.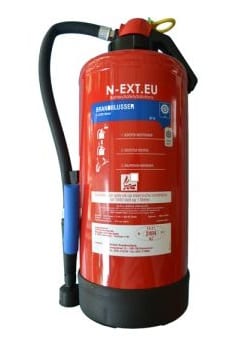 Tested hand extinguisher available in 3, 6, 9 and 50 liters
Specially recommended for extinguishing lithium batteries
Biodegradable within 28 days
Extremely strong cooling effect due to the just mixed additive in the hand extinguisher
Would you like to receive more information about the extinguishing agents from N-EXT, or about the course "Working safely with lithium-ion batteries"? Please contact us.