Saft batteries
---
Elfa Elementenfabriek is an official distributor of Saft and offers a wide range of lithium batteries, suitable for medical, metering, marine, offshore and security applications. You can also contact us for custom-made lithium packs. With its long life cycle, Saft has been providing innovative, safe and reliable energy in space, at sea, in the air and on land for almost 100 years. Saft is a wholly owned subsidiary of Total.
Saft worldwide
Saft is a battery maker like no other. Saft serves a wide range of market sectors, from aerospace, marine and rail to telecommunications, health and energy, and offers battery solutions for many different types of applications. Saft has approximately 4,300 employees and therefore has a huge amount of expertise. Saft's products can be found in every corner of the world and even in space . Saft supplies high-quality batteries and battery systems for the Arctic and Sahara regions, as well as for NASA vehicles and those of the European Space Agency. Saft guarantees a minimum of maintenance and an enormously long service life. Even applications in difficult conditions or at extreme temperatures (up to 150°C) are child's play for Saft.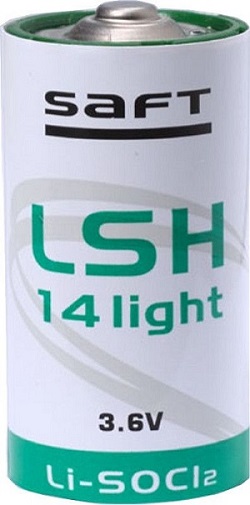 One of the many Saft batteries
Saft battery types
Elfa Elementenfabriek has worked with Saft for almost thirty years. The company has its head office and factory in France and also has factories in England, America and China. Saft can be called the expert in the lithium field, with more than 40 years of experience and a very wide range of batteries for different markets. Since a few years Saft is also owner of Tadiran. Together, these two brands are the global market leader for 3.6 volt lithium batteries.
Saft uses three different types of batteries. These are the nickel, primary lithium and rechargeable lithium (li-ion) batteries.
Nickel Batteries
Saft nickel batteries are known for their excellent performance in extreme temperatures. They are popular in the aviation industry. They are also used in trains, drilling rigs and telecom masts.
Primary lithium batteries
These batteries offer high energy and high power solutions. There are 3 variants of this type of battery: Li-SOCl2, Li-SO2, Li-MnO2. They are particularly interesting for applications that need to work for a long time and where replacement is difficult to achieve. A difficult to realize replacement is often also expensive. Since primary lithium batteries can perform for such a long time, they are especially interesting for gas, water and electricity meters.
Rechargeable lithium (li-ion) batteries
The most powerful li-ion batteries come from Saft. They are used for fighter jets and Formula 1 cars. This type of batteries can provide emergency power at -40°C.
A Saft battery pack made to measure
At Elfa, we always want to offer the solution the customer is looking for. An example of this is our custom battery packs.
There is a chance that the Saft batteries in our range do not quite meet your needs. You are looking for a suitable solution for a specific application in your company. Elfa offers this solution. Elfa has an own assembly department at the head office in Amsterdam . Everything is tailor-made for you. This includes requirements such as dimensions, voltage, capacity, connector and seal. The custom battery packs are not only available for batteries from Saft. They can also be made for brands such as Tadiran, Panasonic or Varta.