Saft batteries
---
Elfa Elementenfabriek is an official distributor of Saft and offers a wide range of lithium batteries, suitable for medical, metering, marine, offshore and security applications. You can also contact us for custom-made lithium packs. With its long life cycle, Saft has been providing innovative, safe and reliable energy in space, at sea, in the air and on land for almost 100 years. Saft is a wholly owned subsidiary of Total.
Saft worldwide
Saft is a battery maker like no other. Saft serves a wide range of market sectors, from aerospace, marine and rail to telecommunications, health and energy, and offers battery solutions for many different types of applications. Saft has approximately 4,300 employees and therefore has a huge amount of expertise.
Saft's products can be found in every corner of the world and even in space. Saft supplies high-quality batteries and battery systems for the Arctic and Sahara regions, as well as for NASA vehicles and those of the European Space Agency. Saft guarantees a minimum of maintenance and an enormously long service life. Even applications in difficult conditions or at extreme temperatures (up to 150°C) are child's play for Saft.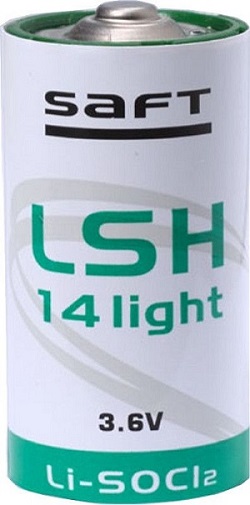 One of the many Saft batteries
Saft battery types
Elfa Elementenfabriek has worked with Saft for almost thirty years. The company has its head office and factory in France and also has factories in England, America and China.
Saft can be called the expert in the lithium field, with more than 40 years of experience and a very wide range of batteries for different markets. Since a few years Saft is also owner of Tadiran. Together, these two brands are the global market leader for 3.6 volt lithium batteries. Saft uses three different types of batteries. These are the nickel, primary lithium and rechargeable lithium (li-ion) batteries.
Nickel Batteries
The nickel batteries from Saft are known for their excellent performance in extreme temperatures, making them popular in the aviation industry. Additionally, they are used for trains, drilling platforms, and telecom towers.
Saft's Compact nickel battery line is designed to improve efficiency and reduce maintenance costs at industrial sites. These batteries, ideal for remote and challenging industrial locations, ensure the smooth operation of essential systems. They represent a direct upgrade from VRLA batteries, fitting into the same space and utilizing existing charging equipment.
With a lifespan of over 20 years, these Compact nickel batteries outperform VRLA batteries by at least three times. They are maintenance-free and can be installed in existing cabinets for lead-acid batteries, significantly increasing reliability and reducing the Total Cost of Ownership (TCO).
Compatible with standard valve-regulated lead-acid (VRLA) battery chargers, the Compact nickel battery systems simplify the transition to advanced nickel technology. Unlike typical nickel batteries that require a boost charge, Saft's Compact Ni-Cd range requires a simple, one-step charging voltage of 1.39 volts per cell. This unique feature allows for a seamless replacement of existing VRLA batteries.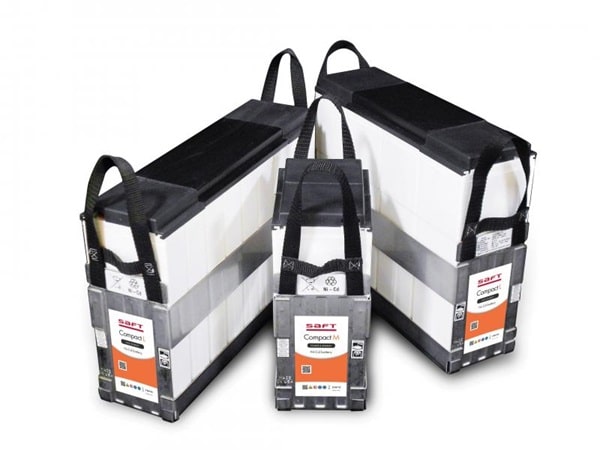 Compact nickel batteries from Saft
The Compact nickel batteries, require no maintenance, are specially designed to support essential control systems and other critical equipment in hard-to-reach and remote locations such as:
Offshore oil and gas platforms;
Utilities;
Production facilities;
Along railways.
Approximately 30% lighter than VRLA batteries, Compact nickel batteries operate efficiently in a broad temperature range from -20 to +50°C and can withstand extreme temperatures from -50°C to +70°C.
The nickel electrochemistry in these batteries allows operators to achieve the lowest possible Total Cost of Ownership (TCO). This is attributed to their long lifespan of over 20 years, consistent performance, and high reliability.
In comparison, lead-acid batteries are often more expensive in the long term due to frequent replacements and maintenance they require. They also necessitate regular testing and can be unreliable, with the possibility of 'sudden death,' where they might unexpectedly lose their capacity.
In contrast, the technology used in Compact nickel batteries guarantees a long, stable, and entirely predictable operational lifespan. This reliability enables operators to focus on managing their facilities without concerns about battery performance.
Primary lithium batteries
These batteries offer high energy and high power solutions. There are 3 variants of this type of battery: Li-SOCl2, Li-SO2, Li-MnO2. They are particularly interesting for applications that need to work for a long time and where replacement is difficult to achieve. A difficult to realize replacement is often also expensive. Since primary lithium batteries can perform for such a long time, they are especially interesting for gas, water and electricity meters.
Li-SOCl2
At Elfa, we offer various Saft batteries for professional applications, including the Saft Lithium battery AA-basic 3.6V LS14500CFG 052. This AA lithium battery is utilized in medical, metering, marine, offshore, and security applications.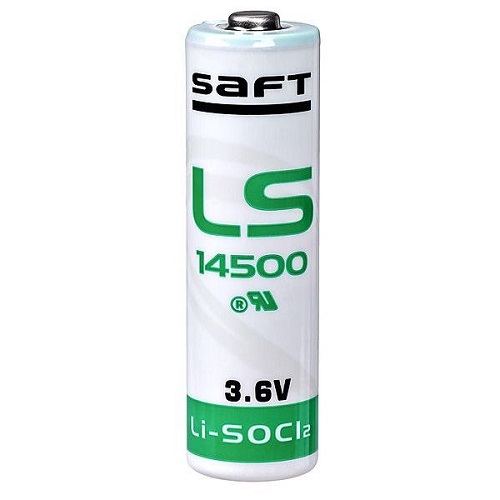 Saft Lithium battery AA-basic 3,6V LS14500CFG 052
Yet another battery model that is widely sold at Elfa is the Saft Lithium Thionyl Chloride (ThyChl) battery 3.6V LS14250CFG 1/2AA basic. This battery performs under extreme temperatures, ranging from -60°C to +85°C. Additionally, this battery exhibits excellent resistance to atmospheric corrosion.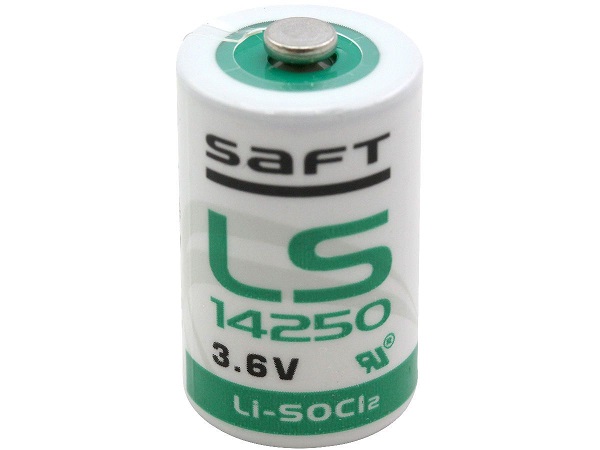 Saft Lithium ThyChl battery 3,6V LS14250CFG 1/2AA basic
Finally, we have the Saft Lithium Thionyl Chloride (ThyChl) battery D-basic 3.6V LSH20CFG. This Saft battery is easy to integrate into compact systems and has low self-discharge (less than 3% after 1 year of storage at 20°C). This battery is commonly used in military systems, GPS devices, alarms, and security systems, among other applications.