Typical applications:
Energy harvesting
Remote monitoring
Asset tracking
Industriële automation
M2M communicatie
Internet of Things (IoT)
Innovation at Tadiran
Tadiran is recognized worldwide as a quality leader in lithium batteries. Yet, or perhaps even "for that very reason," Tadiran is constantly looking to further improve its innovative lithium battery technology. Working closely with customers and government research organizations, Tadiran is committed to developing new lithium battery technologies that further improve the performance of industrial batteries. Elfa closely follows these developments and ensures that the most innovative new products are also made available to its customers.
Most remote wireless devices are powered by primary lithium batteries. Lithium provides longer battery life due to an intrinsic negative potential that exceeds all other metals. As the lightest non-gaseous metal, lithium offers the highest specific energy (energy per unit weight) and energy density (energy per unit volume), reducing battery size and weight. Lithium cells also have a normal operating voltage (OCV) of 2.7 to 3.6 and the electrolyte is non-aqueous, giving it a much wider temperature range than water-based chemicals. Tadiran has devoted itself entirely to the development and production of lithium batteries. It manufactures both in the US and in Germany. Tadiran Batteries Ltd. is fully owned by Saft groupe S.A. Saft batteries are also part of Elfa's product range.
Professional applications
Tadiran batteries are used for a variety of professional applications. The tables below show you which type of batteries are most suitable for each application.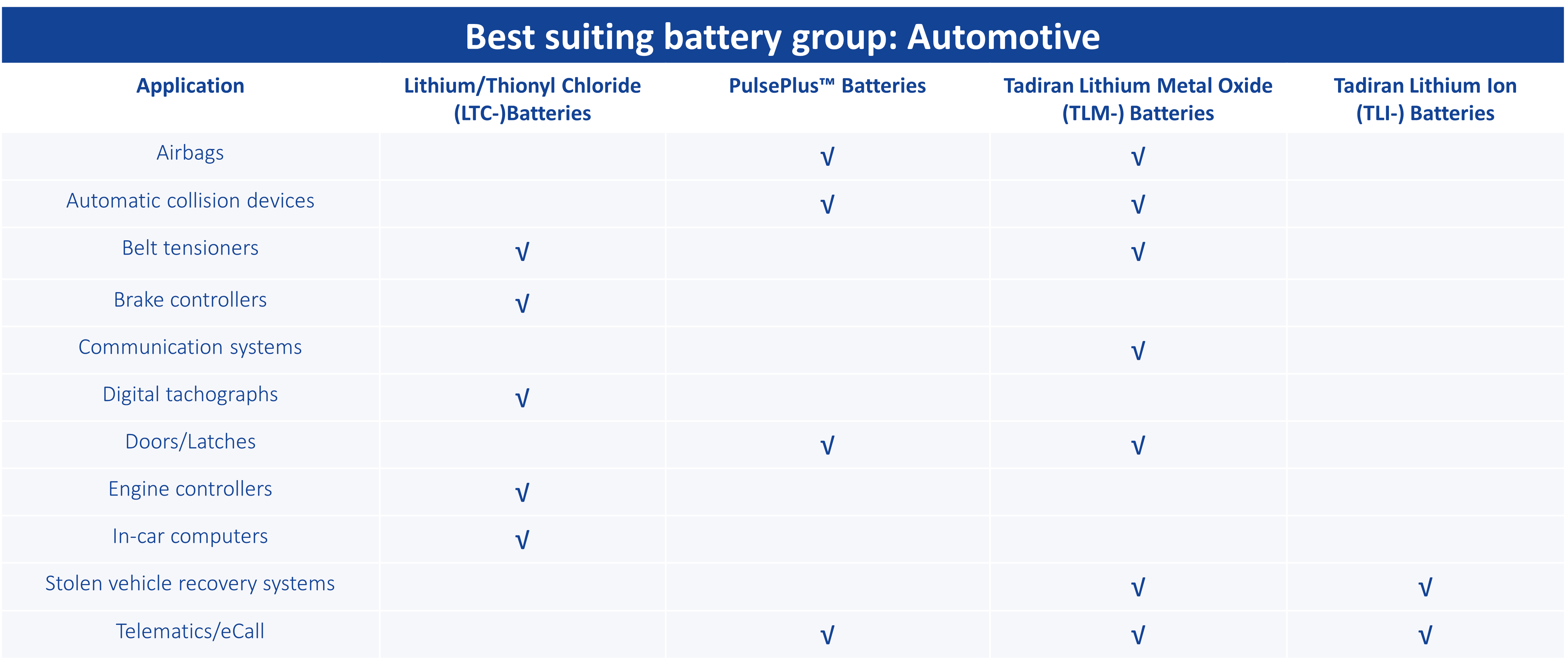 Tadiran is one of the brands in lithium batteries offered by Elfa. To make the right choice from the wide range our experienced staff will gladly provide you with expert and reliable advice. That way you are assured of the right battery from the range of Elfa. Please do not hesitate to contact us for more specific information, technical advice or a quotation. Of course you can also browse through our range of Tadiran batteries by going to our shop. The easiest way to contact us is through the contact form below.