Types of Professional Lighting
---
Elfa has a huge supply of professional, mobile and fixed lighting. Think of inspection lamps, hand lamps, flashlights and headlights but also work lighting and floodlights. From small enterprises large companies like KLM, Prorail, Speedy Hire and Torrent Trackside are happy to let Elfa advise them on lighting. After all, to such professionals it is clear that good lighting is an essential condition for safe work.

Ideal lighting for every application
Over the course of 100 years, Elfa has seen many changes in the technology of lighting. For instance, krypton and halogen have made way for LED lighting and we see more and more devices containing a powerful rechargeable battery. Still, the option with batteries remains popular too. For each application there is an ideal lamp. The right choice requires some knowledge; it is therefore best to have yourself informed on the options by an expert. From a small inspection lamp to robust work lighting: the options are limitless. Below is an overview of a number of professional lamps that are part of the total range of lighting products.
In the field of professional lighting we make a distinction between personal lights and work lights. Elfa has a wide range for both types.
Personal lights
In the field of personal lighting we mean variants such as flashlights, pen lamps and headlamps. The variants will be discussed here. Choosing the right lamp can be a difficult task. The offer is huge and what should you pay attention to? Elfa helps you make the right choice. Here you will find more information about things such as light output (lumen & lux), rechargeable versus non-rechargeable etc.
Professional Torch
A professional torch or hand lamp is indispensable in many situations. Many professionals therefore need a good handlamp or torch every day. From installers and plumbers who have to work in dark corners to emergency services and security guards who have to work at night. After all, it is clear to such professionals that good lighting is an essential condition for working safely. Those who do not see what they are doing, make mistakes or get hurt. But also for people who do not work in the dark every day, a good flashlight or hand lamp is occasionally crucial. That is why Elfa offers a wide range inspection lamps, torches and handlamps from A-brands such as Maglite, COAST, Ledlenser, Peli or Mica.
Maglite torch
Maglite has been a leader in flashlights for forty years. Defense, police, fire brigade, ambulance personnel, security guards and other government institutions therefore use this indestructible brand. A commonly used model is, for example, the Maglite ML150LR.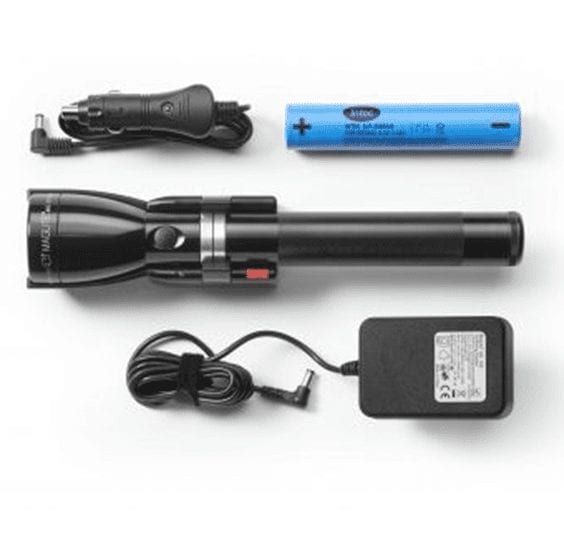 Maglite torch LED ML150LR rechargeable inc.1xLiFePO4 box
The Maglite ML150LR is a powerful successor to the world famous MagCharger. This flashlight is rechargeable, is made of high-quality aircraft aluminum and has a powerful LED (1082 lumens). The ML150LR has three different light modes. A charging holder and 12V 240V adapter are included as standard.
Coast torch
Another widely used brand with comparable quality is COAST. COAST's torches are also very reliable and virtually indestructible, so reliable that Elfa gives a 5-year warranty on all COAST lighting. Moreover, this brand is considerably more affordable than comparable products from, for example, Maglite or Ledlenser. One of COAST's many popular products is the HP10R.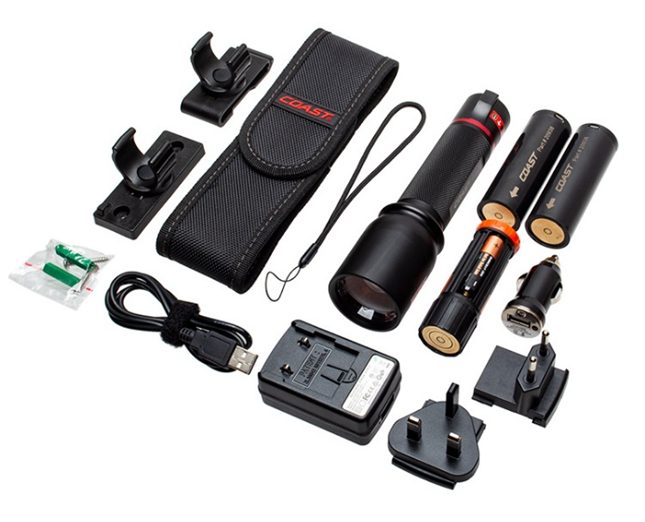 Coast HP10R dimb. rechargeable. acces. inc. 2xLi-ion 4xAAA
This professional torch is made of high-quality material and has a light output of 1050 lumens. Another advantage of COAST is that the torches are always supplied complete including accessories such as a charging cable, nylon cover and wrist strap. The Coast HP10R also comes standard with two lithium batteries and a cartridge with 4xAAA batteries. That is why you will never be without power. Competitive brands usually require these accessories to be purchased separately.
Ledlenser torch
Ledlenser flashlights are used worldwide by police, military and emergency services. But security guards and inspectors also greatly appreciate the Ledlenser products for their design, reliability and their light output. Ledlenser flashlights are very solid, compact flashlights with a lot of light output. One of our best-selling models is the Ledlenser P7. This has a light output of 450 lumens and a range of 300 meters.
Inspection lamp / penlamp
The name says it all; this lamp is usually the size of a (large) pen and therefore fits easily in a breast pocket. Handy for daily use with light equipment. Always light at hand, without having to carry a heavy flashlight. Ideal for installers, for example, to have a quick look in a dark room such as a meter cupboard. You can think of the G19 from COAST.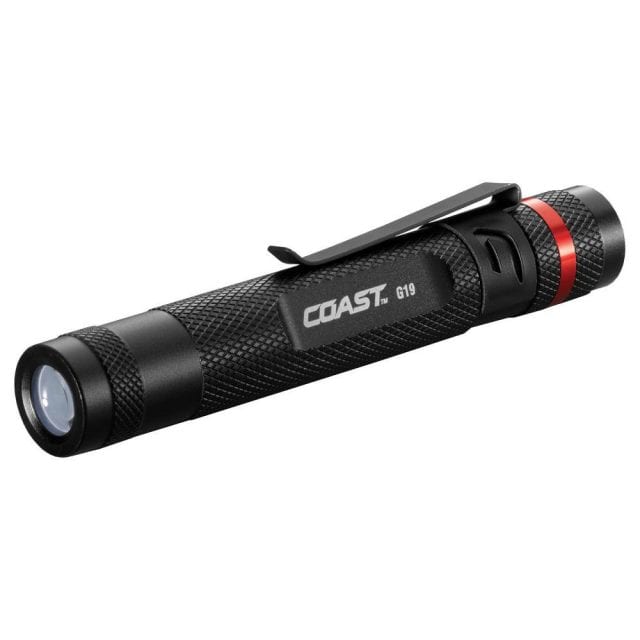 Coast inspection lamp G19 54Lm inc.1xAAA blister
Professional headlamp
In some cases it is important to keep both hands free, for such situations, professional head lamps are ideal. We highly recommend the HL7 headlamp from Coast. This headlamp features the Pure Beam Optics system that gives you a more usable, higher quality light beam.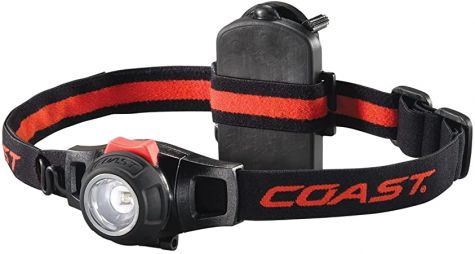 Coast HL7 headlamp dimm. 305Lm inc.3xAAA blister
Mountable light / cliplight / keychain light
In some cases it can be useful to be able to attach a lamp to a metal object thanks to a magnet or to clothing thanks to a clip. For these moments there are mountable clip lights such as the Coast HX4.
There are also small torches so compact that they can be attached to the key ring. The keychain light often only has a small light output, but enough to illuminate things in or around the car, for example.
In addition to all the personal professional lighting mentioned, Elfa also offers a wide range of Atex lighting and all kinds of work lights.
Atex lighting
If you work in an environment with explosion danger, ATEX certified lighting is an absolute requirement. Elfa offers a wide choice of explosion-proof lighting from renowned brands such as Mica, Peli, Underwater Kinetics and many more. Click here to view the entire range of ATEX lighting. This varies from compact ATEX head and hand lamps to large work lighting. More information about ATEX can be found on our page about ATEX lighting. When choosing the right ATEX lamp, it is advisable to seek advice from an expert.
Work lighting
Are you looking for work lights, construction lamps or floodlights? Then you have come to the right place at Elfa. Elfa has a huge range of work lighting from all premium brands such as Setolight, Led's Work, Nissen and Favour.
For professional users who have power in the workplace and have no problem with the cables, there are of course also construction lamps that work with a plug. One such construction lamp that is often chosen is the Led's Work Novalight.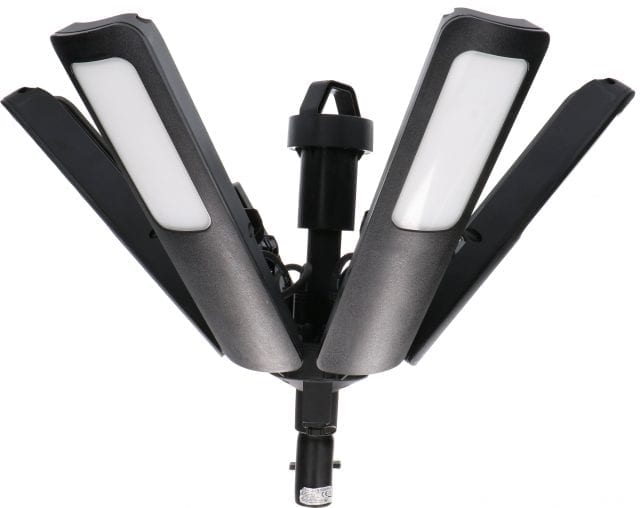 Led's Work Novalight 360 degrees floodlight Incl. tripod
A professional 360 degree LED spotlight on a telescope tripod. The floodlight has a housing that can be moved in parts, so that you can always set the desired position.
You can also contact Elfa for larger work lights, for example if you work in the rail or contracting and need area lighting, Elfa offers lamps from Peli and Setolite LED lighting. The Setolite work lighting is popular because, in addition to the enormous light output, it can take a beating very well. In the video below you can see such a Setolite work light: the Aldebaran XLD-2C.
The Aldebaran XLD-2C
XLD stands for Extreme Lighting Device. 90.000 Lumen at an energy consumption of only 560 Watt. Can be used both on mast and suspended. Equipped with power cord Dimmer and switch optional. For more information, please visit our page about Elfa's powerful work lights:
Ship lighting: Glamox & Karl Dose
When someone is looking for marine lighting, whether it is for indoor or outdoor use, you almost always end up with two brands: Glamox and Karl Dose. Both brands have been delivering the highest quality for years and of course you can order everything from both brands through Elfa. Even if your product is not in our webshop. Request a product through our contact page.
Glamox
In shipping and offshore, Glamox is one of the market leaders in lighting products. The wide range can be used in naval ships, yachts, cruise ships, offshore vessels and much more. On request, Elfa offers the full range of Glamox, including: interior lighting, floodlights and deck lighting.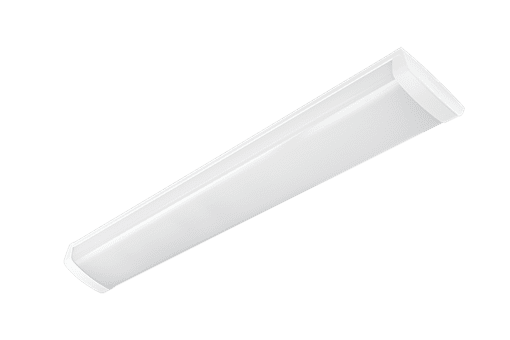 Glamox i60
The Glamox i60 is a flexible and streamlined splash-proof LED fixture that is very suitable for various interior and industrial purposes. With its slim design and functionality, the i60 is a practical solution for many different applications. The luminaire is easy to mount on ceilings, walls, cable ducts or horizontal steel wires.
Karl Dose
Like Elfa, Karl Dose is a family business with more than 100 years of experience. The German company was founded in Hamburg and supplies professional lighting for the sea worldwide. Karl Dose produces everything from wall and ceiling luminaires to floodlights, floodlights and ATEX lighting for the maritime industry.
Why Elfa?
For years, Elfa has been the expert in batteries and lighting products for the business market. With our knowledge and expertise, we can advise you on the best solution for your situation. In addition, we have 3 own production locations and we have a wide range of A-brands. Think here of Saft, Tadiran, Panasonic or Varta. Of these brands (and others) we have a wide range of primary batteries or secondary batteries, such as NiMH batteries or Lithium-ion batteries.
Below are a number of customers of Elfa.

Wide range of professional lighting
So are you looking for professional lighting? Take a look in our webshop to different types such as inspection lamps, construction lamps, hand and flashlights. Would you like more information about our professional lighting? Then, without obligation, contact us You can also fill in the contact form below.