Typical applications for the Powerline batteries are cameras, flash and audio devices, remote controls and digital scales. The high reliability of alkaline batteries also makes them ideal for use in buoys and safety related applications such as blood pressure monitors or smoke detectors. The Lithium batteries of Panasonic are also recommended, such as the Panasonic Lithium battery 3V CR2. This battery is powerful and durable and performs well under extreme conditions.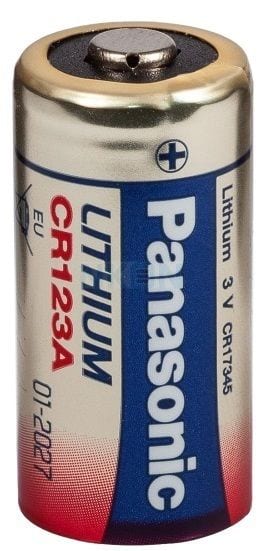 Panasonic Lithium battery 3V CR123A
Panasonic also has high-capacity batteries that are also resistant to more extreme temperatures. The Panasonic CR123A lithium battery 3 volts is a good example of this. This Panasonic CR123A battery has a very long life and is suitable for use in digital photo cameras, flashlights, measuring equipment and alarm systems. The battery is capable of delivering high power during temperatures between -40 and 70 degrees Celsius.
However, Panasonic also has other types of batteries such as the NiMH battery shown below.

NiMH batt 1,2V 800mAh HR1145 basic AAA HT
This Nickel-metal hydride (NiMH) AAA battery (rechargeable) from Panasonic is the better alternative to the NiCd battery. This variant is less affected by the memory effect and also has a higher capacity.
In addition to NIMH batteries, Elfa also has Panasonic button cells in its range. They are often used in electronic equipment, car keys, calculators and watches. In our shop we have many different variants Panasonic button cells. Watch the video to get an idea of what parts a button cell consists of.
Li-ion battery pack: the Panasonic 18650
The Panasonic 18650 battery is one of the most commonly used batteries for lithium-ion battery packs. This is because the Panasonic 18650 is very reliable and offers excellent costs per kilowatt hour. Li-ion battery packs with Panasonic 18650 cells can be found among other things medical devices, industrial applications, military equipment and robots. A custom 18650 battery pack can contain battery holders, a PCB, PCM, BMS, cell balancing board or other components.
Benefits::
Long lifespan
High energy density
Little self-discharge
No memory effect
High power
Panasonic lead-acid batteries
Panasonic's quality is also reflected in its lead-acid batteries. These rugged, valve-controlled, lead-acid batteries are designed to deliver outstanding performance. Also with overload, excessive discharge, vibrations and shocks. Below you can see one of the many Panasonic batteries from the Elfa range.