Lithium Iron Phosphate Battery (LiFePO4)
---
A Lithium Iron Phosphate Battery (LiFePO4 or LFP) have been known since 1996. This battery chemistry offers clear advantages. LiFePO4 cells are significantly safer than LiCoO2 cells and compared to lead batteries we see that with a LiFePO4 battery more than 100% of the nominal capacity can be used.
Characteristics of a lithium iron phosphate battery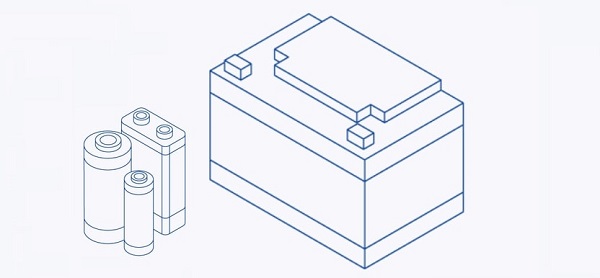 LiFePO4 batteries have different characteristics which will be explained here.
No maintenanceLiFePO4 batteries require no maintenance. The 'Battery Management System' ensures that all cells are charged in a balanced manner. They can be mounted in any position and there is no need to ventilate the room.
100% deep discharge: Unlike conventional lead-acid batteries, for example, the LiFePO4 variants 1001T may be deeply discharged. Meanwhile, they certainly achieve 5x as many cycles as lead acid batteries. In addition, these types of batteries have a very high energy density and do not contain any toxic, heavy metals. This makes them a lot more environmentally friendly than NiCad and lead-acid batteries. In addition, these batteries are lightweight, which is a big advantage compared to lead batteries.
Good performance with coldLiFePO4 batteries, like any battery, lose capacity in cold environments. However, the loss in these variants is minimal. At a temperature of -20˚C they still have a capacity of 80%. For comparison, a good AGM lead battery delivers only 30%. LiFePO4 batteries can be used in a temperature range of -45°C to +70°C.
Non-combustibleLiFePO4 cells (Lithium phosphate cells) are non-flammable in case of damage or improper handling during charging and discharging. They can withstand high temperatures without disintegrating or splashing.
Longer life span: The phosphate technique offers a longer life span. LiFePO4 cells are therefore very resistant to extreme ambient temperatures. A standard lead battery loses its capacity below freezing point and at high temperatures the life span decreases considerably.
Advantages of LiFePO4 batteries
LiFePO4 batteries require no maintenance.
Can be mounted in any position
LiFePO4 battery can be deeply discharged 100%
Reach at least 5 times as many cycles as lead batteries
High energy density
Lightweight
Disadvantages of LiFePO4 batteries
High price
Limited supply
More information about a LiFePO4 battery?
Are you curious whether lithium iron phosphate batteries are interesting for you? We would be happy to help you find a professional solution. With over 100 years of experience, we are convinced that our experts can help you further!
Case study: Portpay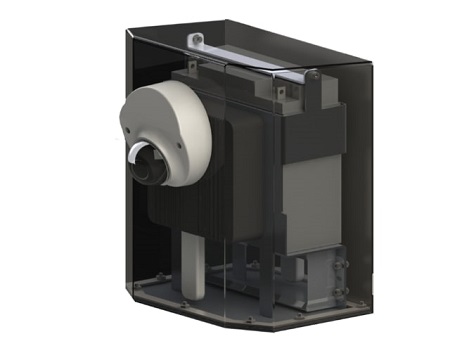 Portpay sensor uses LiFePO4 batteries
Amsterdam's canals are always very busy. Thousands of boats belonging to residents, visitors and tourists sail there every day. To maintain safety and prevent inconvenience, the boat movements in the canals are monitored. The organisation Portpay is responsible for this.
Portpay uses computers with Linux software and cameras for data collection. These are directed at important intersections along the canals, enabling them to collect all relevant data. The information obtained is then sent to the central database.
To ensure that the system functions 24 hours a day, 7 days a week, lithium iron phosphate battery technology was chosen.
Elfa has made a stainless steel housing with a LiFePO4 battery in it that meets the customer's requirements. During the summer nights the batteries are charged for 7 hours and then operate (discharge) for 17 hours during the day.
Because of their high energy density and fast charging time, they are ideal for Portpay's smart monitoring system.
LiFePO4 batteries and accumulators
Because of the many advantages of lithium iron phosphate, batteries with this battery chemistry are excellent for use in professional applications. Elfa therefore offers batteries of different brands.
For example, we have a lithium iron phosphate battery from Maglite, which is known for its high quality. The battery is durable, rechargeable and also has a long life. The LiFePO4 battery is made of aircraft aluminum and is weather and shock resistant. These batteries are used for the professional torches from Maglite.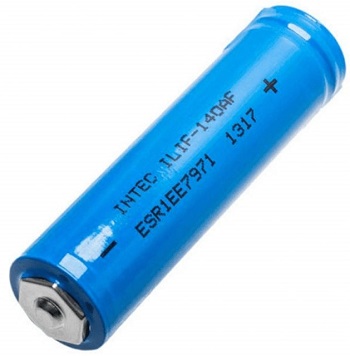 Maglite Magtac LiFePO4 battery
Besides the lithium iron phosphate batteries, Elfa offers many other types of batteries for professional use. Take a look at our assortment!
Custom battery packs
At Elfa, battery packs can also be made to measure. In this way we can offer a specific solution that the customer is looking for.
There is a chance that standard batteries and accumulators do not exactly meet your needs. In our own assembly department, everything is made specifically to order. We take into account dimensions, voltage, capacity, connector and seal. Feel free to contact us for more information!
We are ready for you!
Would you like more information about Lithium iron phosphate (LifePO4) battery? In that case, take contact us with us. The easiest way is to fill in the contact form below. We will then contact you.