Lithium Iron Phosphate Battery (LiFePO4)
---
A Lithium Iron Phosphate Battery (LiFePO4 or LFP) have been known since 1996. This battery chemistry offers clear advantages. LiFePO4 cells are significantly safer than LiCoO2 cells and compared to lead batteries we see that with a LiFePO4 battery more than 100% of the nominal capacity can be used.
Characteristics of a lithium iron phosphate battery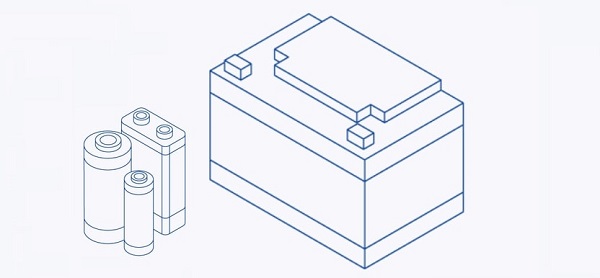 LiFePO4 batteries have different characteristics which will be explained here.
No maintenance: LiFePO4 batteries require no maintenance. The 'Battery Management System' ensures that all cells are charged in a balanced manner. They can be mounted in any position and there is no need to ventilate the room.
100% deep discharge: Unlike conventional lead-acid batteries, LiFePO4 cells may be 100% fully discharged. Meanwhile, they certainly achieve 5x as many cycles as lead acid batteries. In addition, these types of batteries have a very high energy density and do not contain any toxic, heavy metals. This makes them a lot more environmentally friendly than NiCad and lead-acid batteries. In addition, these batteries are lightweight, which is a big advantage compared to lead batteries.
Good performance with cold: LiFePO4 batteries, like any battery, lose capacity in cold environments. However, the loss in these variants is minimal. At a temperature of -20˚C they still have a capacity of 80%. For comparison, a good AGM lead battery delivers only 30%. LiFePO4 batteries can be used in a temperature range of -45°C to +70°C.
Non-combustible: A LiFePO4 battery is non-flammable in case of damage or improper handling during charging and discharging. They can withstand high temperatures without disintegrating or splashing.
Longer life span: The phosphate technique offers a longer life span. LiFePO4 cells are therefore very resistant to extreme ambient temperatures. A standard lead battery loses its capacity below freezing point and at high temperatures the life span decreases considerably.
Advantages of LiFePO4 batteries
LiFePO4 batteries require no maintenance.
Can be mounted in any position
LiFePO4 battery can be deeply discharged 100%
Reach at least 5 times as many cycles as lead batteries
High energy density
Lightweight
Disadvantages of LiFePO4 batteries
High price
Limited supply
LiFePo4 batteries
Thanks to the many advantages of lithium iron phosphate, LiFePO4 cells are excellent for professional solutions. Elfa therefore offers batteries from various brands. A few LiFePO4 batteries from Elfa's range are explained in more detail.
Power Sonic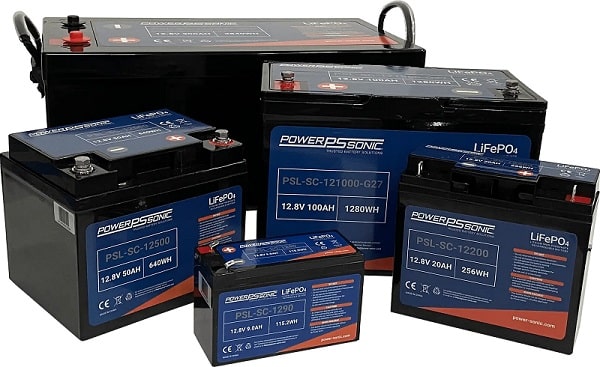 Power Sonic is a prominent brand in the production of various types of batteries and accumulators, including lithium iron phosphate batteries. The company has more than 50 years of experience in the industry and has established itself as a reliable and quality supplier of power solutions. Moreover, many of their products are certified to international standards, such as ISO 9001.
Power Sonic PSL-SC-12500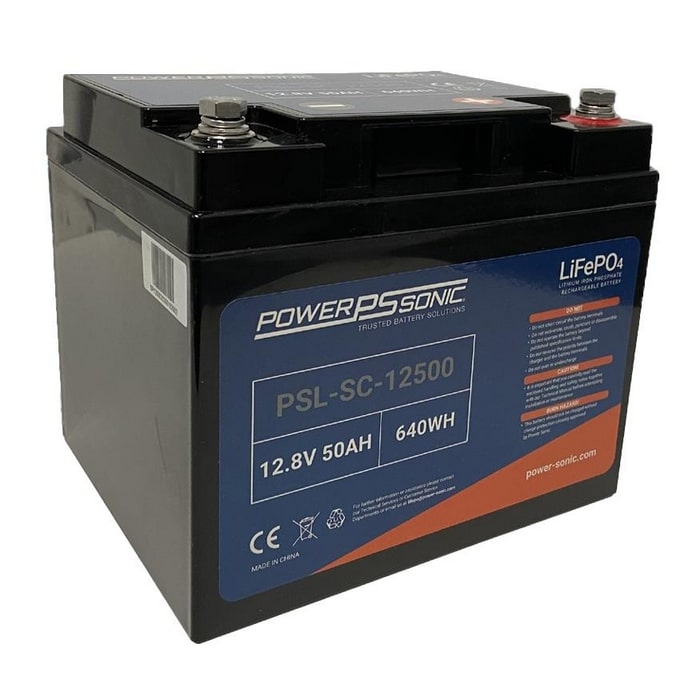 Power Sonic PSL-SC-12500
The Power Sonic PSL-SC battery is a lithium iron phosphate battery that features an intelligent battery management system (BMS). This BMS monitors and reacts to multiple voltage, current and temperature events to maximise performance, battery life and safety.
In addition, this battery from Power Sonic lasts longer, weighs less and charges faster than comparable lead-acid batteries. PSL-SC batteries can be configured in series or parallel (depending on the model).
Voltium Energy
Voltium Energy® is a Dutch company with more than 20 years of experience in the battery industry. Based on this experience, Voltium Energy started developing LiFePO4 batteries for the industrial and leisure market.
The goal of Voltium Energy is to develop safe and high-quality batteries with a long-life span, which can be used for various applications.
Voltium Energy 12.8V 9Ah LiFePO4 battery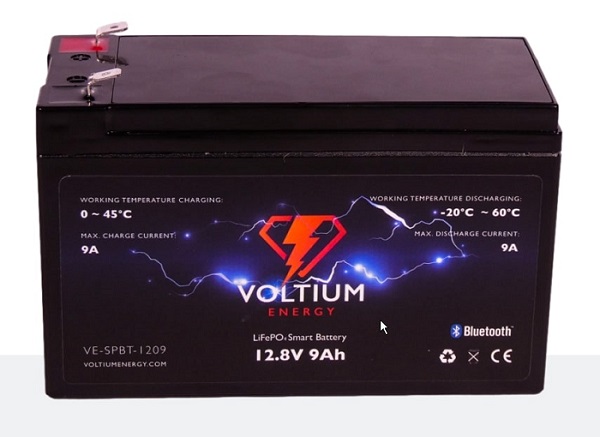 Voltium Energy 12.8V is a LiFePO4 battery
The Voltium Energy 12.8V is a LiFePO4 battery with a built-in SMART BMS. The SMART BMS has a number of important functions such as; cell balancing, temperature protection, over-discharge protection, deep discharge protection, short-circuit protection and Bluetooth® monitoring.
The 12.8V 9Ah LiFePO4 battery can be used in the following industries:
Sport and recreation
Mobility
Transport
Data centres
Medical
Fisheries
Technical specifications
Nominal Voltage
Rated Capacity (CC 0.2C to 10V)
Rated Energy
Internal Impedance
Connection type
Lifespan (@DOD 100% at 1C and ±25°C)
Lifespan (@DOD 100% at 0,2C and ±25°C)
Connection options
Communication
12,8V (4S)
9Ah
115,2Wh
≤20mΩ
F2 snelon
> 3000
> 6000
4 in serie OR 4 in parallel
Bluetooth®
Lithium Werks batteries
Lithium Werks is a fast-growing lithium iron phosphate battery manufacturing company, with branches in the US and the Netherlands. They produce cell batteries, customised battery packs and battery management systems for various markets, such as commercial shipping and the transportation industry.
Lithium Werks' batteries deliver high power thanks to the use of a patented Nanophosphate® technology.
Lithium-Ion 18650 Power battery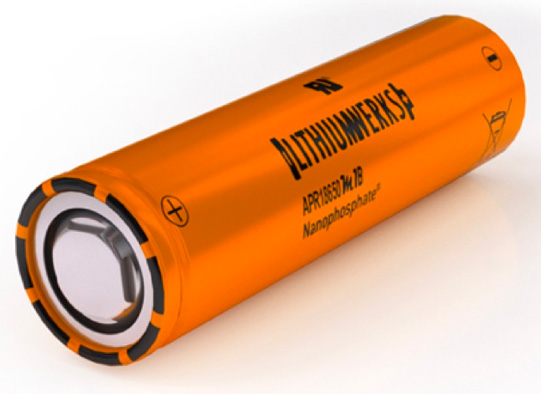 The 18650 battery offers high power, consistent output and excellent longevity. Thanks to Nanophosphate® technology, the batteries charge quickly and deliver superior cost performance. The cells are suitable for various purposes and can be used in customised solutions.
Litihium-Ion 26650 Power battery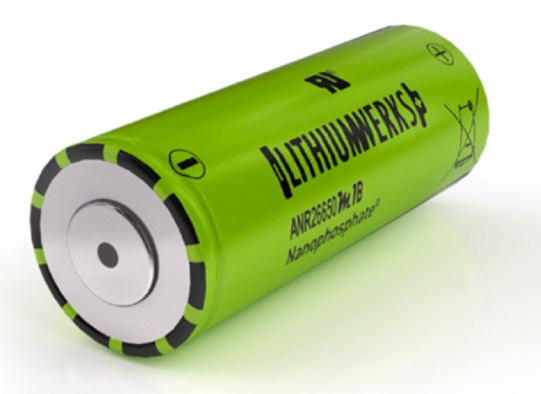 The 26650 battery is larger than the 18650 and has therefore a larger capacity. With all the advantages of Nanophosphate®, the 26650 is suitable for various purposes and customised solutions.
See the table below for more mutual differences between the 18650 and 26650.
18650 Power battery
26650 Power battery
Nominal voltage
Nominal capacity
Nominal energy
Impedance
Diameter
Length
3,3 V
1,2 Ah
3,96 Wh
<16 mΩ
Ø18,5 cm
64,95 cm
3,3 V
2,6 Ah
8,58 Wh
<10 mΩ
Ø25,96 cm
65,15 cm
Besides lithium iron phosphate batteries, Elfa offers numerous other types of batteries and accumulators for professional use. Feel free to take a closer look at our product range!
More information on a LiFePO4 battery?
Wondering if lithium iron phosphate batteries are interesting for you? We are happy to help you find a suitable solution. With over 100 years of experience, we are confident that our experts can help you further!