FIAMM batteries
---
Elfa supplies a wide range of maintenance-free lead batteries from FIAMM. These lead-acid batteries are characterized by very low self-discharge and high power density. The robust housing is made of impact and shatter-proof ABS plastic.
Reliable maintenance-free lead batteries
DThe highly pure lead-calcium-tin grid plates are corrosion and aging resistant. You can tell from everything that FIAMM has devoted much attention to R&D in its many years of existence to bring the best energy back-up products and solutions to the market. FIAMM batteries stand for quality, reliability and durability. That is why Elfa has included a very wide range of this brand in its assortment.

The parts of a FIAMM battery
Applications for FIAMM batteries
The batteries are suitable for UPS systems, but also for emergency lighting and traction applications. The batteries have a very low self-discharge and in case of emergency they can be deeply discharged. A FIAMM battery can be used in virtually any emergency power system, partly because of these qualities. The battery has excellent characteristics for rapid discharging and is therefore very reliable.
Our battery range
At Elfa we have a very wide range of FIAMM batteries, each with unique characteristics. An example is the below shown 'FIAMM Pb battery 6V 12Ah standard L151 B50 H94 faston4,8'.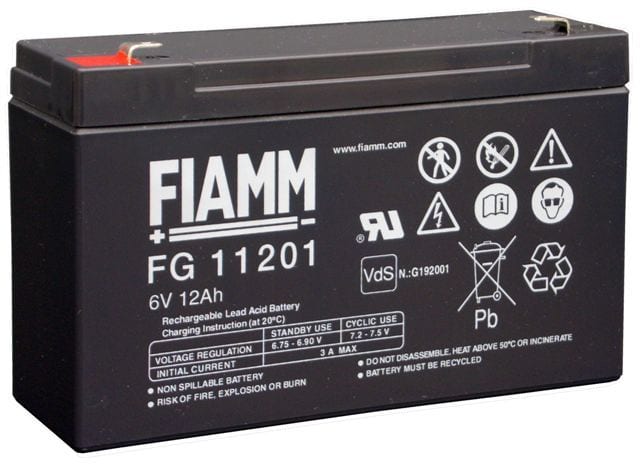 One of the many batteries in Elfa's product range
This battery (like most FIAMM products) is known for its high reliability and energy output. Another type of battery, the FIAMM Pb battery 12SMG100 F 12V 100Ah L558 B126 H270 M8.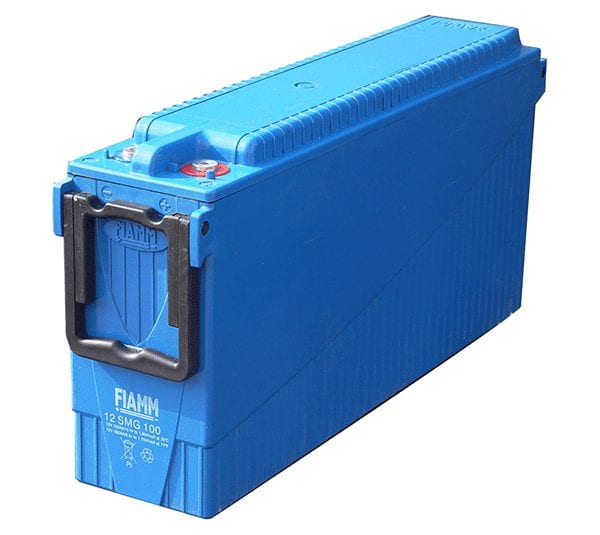 Fiamm Pb accu 12SMG100 F 12V 100Ah L558 B126 H270 M8
This is a rechargeable lead-acid battery, optimal for professional applications such as UPS and emergency lighting. Another feature is that they are resistant to self-discharge and can be deeply discharged if necessary.
With this, the battery producer wants to better respond to the demand from specific market sectors. These batteries have different applications and are used for, among others:
Emergency power systems
Forklift trucks
Alarm systems
Traction applications
UPS systems
The batteries have an average lifespan of five years, according to the Eurobat standard. At Elfa, by the way, we have many more FIAMM products of this battery manufacturer.
FIAMM background
FIAMM is a multinational company engaged in the production and distribution of batteries in various countries such as Italy, Germany, United Kingdom, The United States, Japan and Singapore. As a market leader, the battery manufacturer has large customers such as AEG, Vodafone, Schneider en Huawei.
Importantly for the well-known battery brand, the batteries act as back-up power solutions to ensure continuity of energy supply to critical applications in the event of an interruption to the power supply. Elfa therefore supplies FIAMM batteries to telecommunications, data centres, railways, power stations, petrochemical plants and parties wishing to realise energy storage from renewable sources, among others. FIAMM stands for very high quality. The quality system of is certified according to ISO 9001: 2015, ISO / TS 16949: 2016.
For an overview of the entire range of FIAMM, click on the button below. Of course you can contact us for questions about one of the many batteries in our range.
Our clients
At Elfa, we focus on the business market. Companies looking for professional advice on making the right choice in batteries and accumulators. With our wide range and expertise we have been able to help the following companies and organizations.


Questions or more information?
At Elfa, we have extensive knowledge and experience that we are happy to apply to help you further. To get an idea of what we can do for you, take a look at the video below made by Dick Vleeskruijer, senior consultant at Elfa.
So if you want further advice on the choice of a battery technology or advice on the choice of a lead-acid battery, the specialists at Elfa are the ones to turn to. Here, more than 100 years of experience in the field of energy storage is available, of which the FIAMM batteries are an important part. Fill in your details in the form below and we will contact you. Of course you can also call or mail contact us.