Cegasa Air-Alkaline Batteries
---
We know Cegasa mainly for its Air-Alkaline batteries. Since its establishment in 1934, Cegasa Portable Energy S.L.U. has grown into an internationally recognised company, with 4 production companies and 15 international subsidiaries.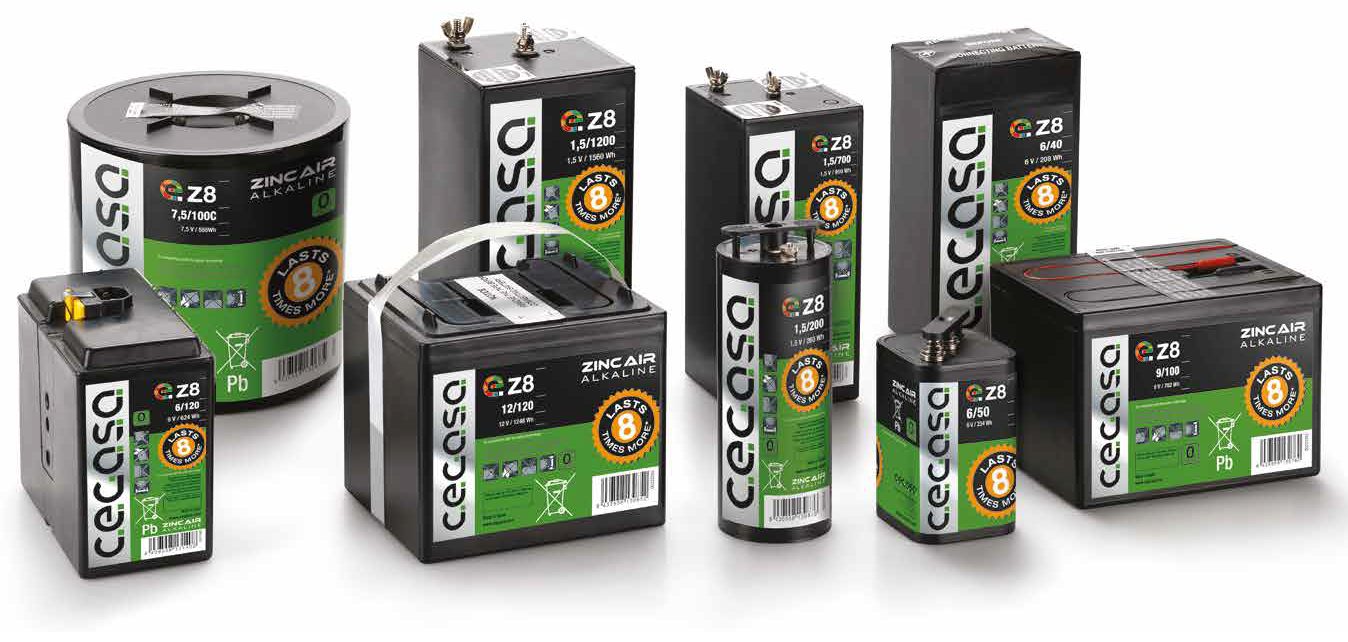 Cegasa
Cegasa products are available in more than 60 countries in 5 continents. Cegasa has become a major player in the field of air depolarisation. Cegasa has thereby developed an innovative technology: Zinc Air-Alkaline. This innovation gives the battery a number of technical advantages: high energy density, high output voltage and stability throughout the entire duration of discharging. Besides, this battery technology is resistant to all kinds of weather conditions and produced free of heavy metals.
Benefits of Zinc Air-Alkaline in brief:
High energy density
Low self-discharge
High output power
Constant output voltage (less than 2% variation)
Temperature range from -20ºC to +50ºC
Resistant to humidity (25-85% RH)
Durable: Free of heavy metals
Zinc Air-Alkaline (Zinc/Air)
The batteries are made with a manganese dioxide cathode specially formulated by Cegasa, which is continuously regenerated with oxygen from the air. This means that the cells use a minimum amount of active cathode material compared to other alkaline batteries from other manufacturers. The big advantage is that by storing a larger amount of anode material, they have more power, which results in Cegasa's Zinc Air-Alkaline batteries having the highest capacity on the market. Furthermore, the battery will only activate after a sticker has been removed, which ensures that Cegasa batteries have a very long shelf life.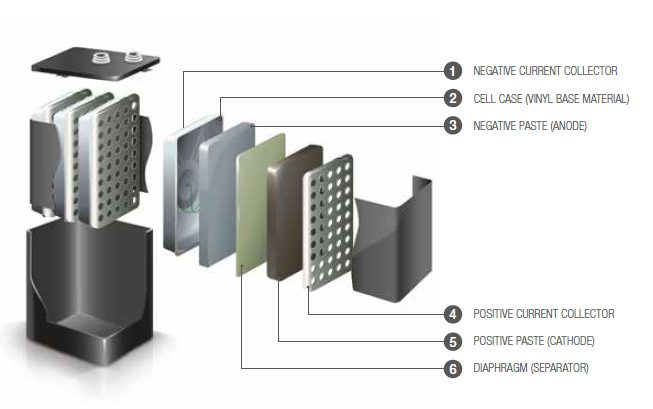 The composition of a Cegasa Zinc Air battery
Constant voltage output = constant performance
Cegasa technology ensures that the voltage output varies by less than 2%, regardless of the battery (SoC) state of charge. This means that in applications such as signalling, the light intensity is constant throughout the life of the battery. The light intensity does not decrease when the battery is low. Constant voltage output means constant performance throughout the life of the battery, which increases efficiency and reduces the number of batteries required, minimising environmental impact.

Discharge curve of a Cegasa Zinc Air battery
Outstanding Energy Density
Cegasa's unique formula makes it possible to offer a battery with excellent energy density. A battery that has up to 5 times more power with the same volume and can last up to 8 times longer. The high output voltage stability ensures that no matter how much the battery is discharged, the power in the battery is used to the maximum. Where other battery technologies fail to deliver enough voltage even when they have energy left, they waste up to 30% of battery power.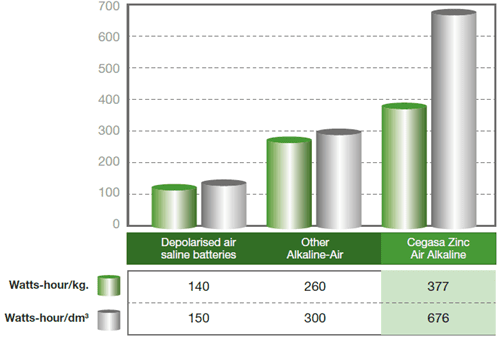 The energy density of Cegasa compared to other Air-Alkaline batteries
Applications of Cegasa batteries
These properties ensure that the Cegasa Zinc Air batteries are widely used in the rail industry, maritime industry, IoT and telecommunications, traffic signals and parking meters, among others.

Cegasa Zinc Air Alkaline is widely used in:
Emergency lighting (rail and traffic)
Railway crossings
Electronic traffic signs
Mobile warning systems
Mobile LED devices
Signal lights (maritime)
Parking meters
Our battery range
At Elfa, we have a very wide range of Cegasa batteries, each with unique properties. An example is the 6V battery shown below.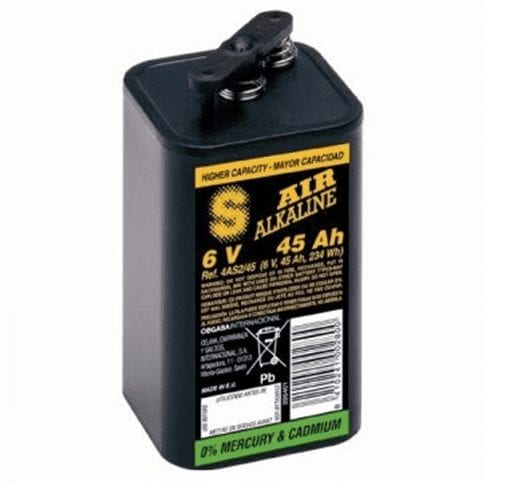 Cegasa Zinc Air-Alkaline batt 6V 45Ah
For an overview of the products of Cegasa click on the button below. However, not all of Cegasa's products are displayed in our webshop, but they are available on request. Of course you can contact us for questions about one of the many batteries from our range.
If you would like to receive further advice on the selection of a battery technology or advice on the selection of a Cegasa battery, please contact the specialists at Elfa. There is more than 100 years of experience in the sector of energy storage available here, of which the Cegasa batteries are an important part. Fill in your details in the form below and we will get in touch with you.