Atexor
---
The team of Atexor specialises in the design and manufacture of IECEx and ATEX lighting for hazardous areas. Besides the standard products, Atexor creates custom-made solutions to suit the specific needs of the customer. All Atexor products and solutions are acknowledged throughout the world for their quality and reliability and are designed and manufactured in Finland.
Atexor's products are being used all over the world
The products of Atexor serve customers in a wide range of industries and applications: oil and gas, petrochemicals, refineries, mining, drilling vessels, manufacturing, factories, transportation, fire departments and Defence. U kunt erop vertrouwen dat de producten van Atexor veilige, betrouwbare Ex-verlichting bieden voor zowel draagbare als vaste toepassingen in ATEX-zones. With ATEX certified production, Atexor products and solutions are the result of world-class engineering, proven through end-to-end testing. Atexor has its own design, testing and production facilities in Finland, which helps to ensure quality.
The ATEX lighting products from Atexor:
• SLAM FIXED
• SLAM
• MICA
SLAM FIXED: fixed ATEX luminaires
Atexor has been designing and developing ATEX and IECEx lighting for more than 30 years. Besides off-the-shelf fixed luminaires, Atexor offers to work with customers to create customised solutions. Atexor is known for its ability to solve challenges in customers' hazardous environments according to demanding timetables. Atexor pays attention to every detail, including fastenings. Versatile braces are an absolute must, especially in renovation projects. If you need custom-made luminaires, don't hesitate to ask Elfa.
A popular fixture of the SLAM FIXED line is the SEMIC SF Semi-portable ATEX lamp. The SEMIC SF is a versatile fixed and semi-portable ATEX machine lamp.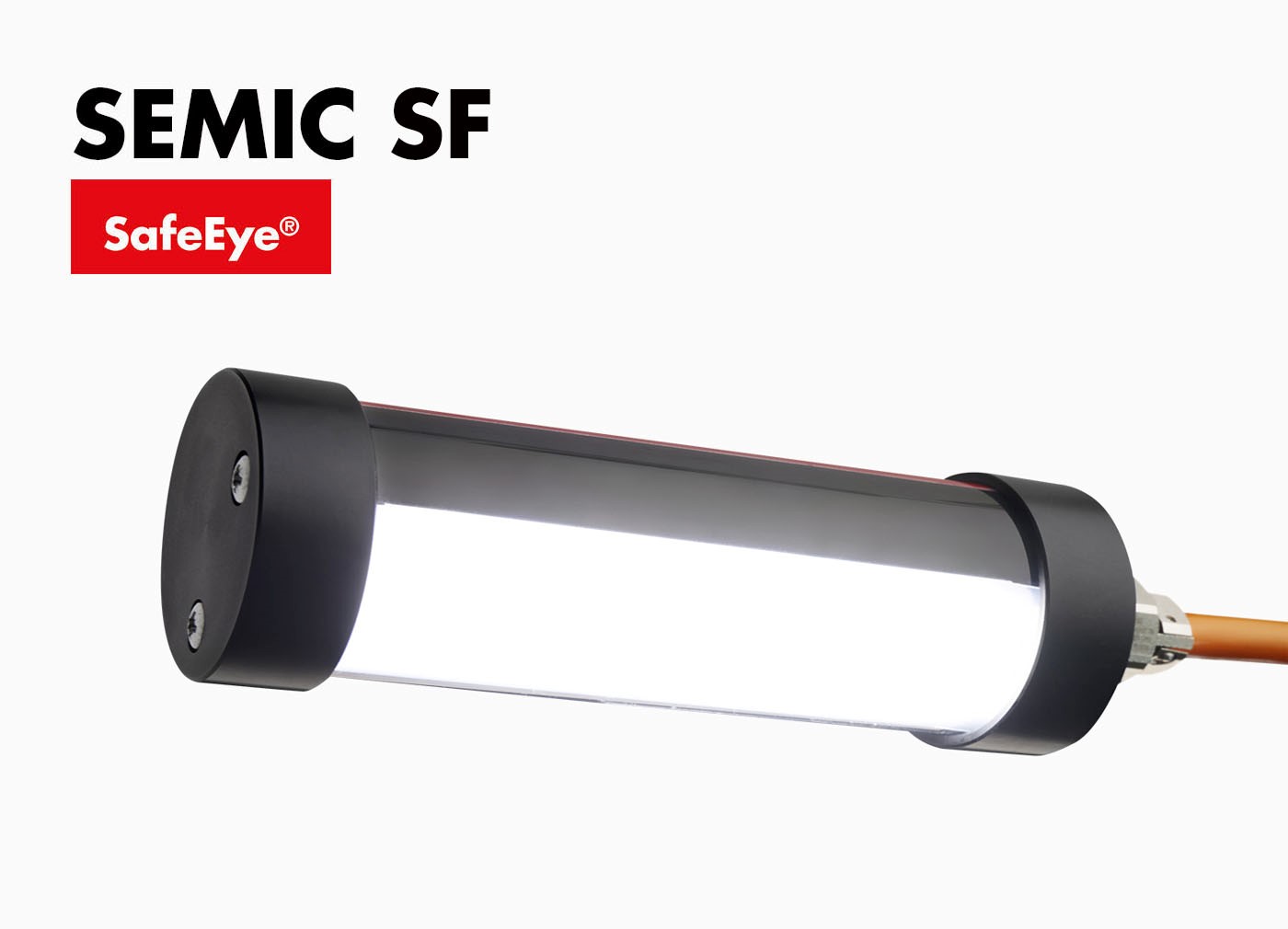 SLAM FIXED SEMIC SF
Here are a few advantages:
– Certified for both fixed and mobile use
– Gas explosion group IIC, Temp. Class T5, IP68
– Compact in robust construction
– Exceptionally long, maintenance-free lifespan
– Beautiful light with a good CRI value for easy colour detection
The Atexor SEMIC SF has exceptional safety ratings and operational approval. Although it produces 650 lumens, there is no risk that the light will be an ignition source. The SF is also equipped with SafeEye technology to protect employees' eyes and keep the light soft and smooth. SEMIC's high-quality LEDs generate pure light, allowing workers to distinguish colours in the work area with confidence.
Another very popular lamp in the SLAM FIXED line is the SLAM FIXED Novo 1LED. A reliable, high-temperature fixed LED luminaire for ATEX zones 1 & 21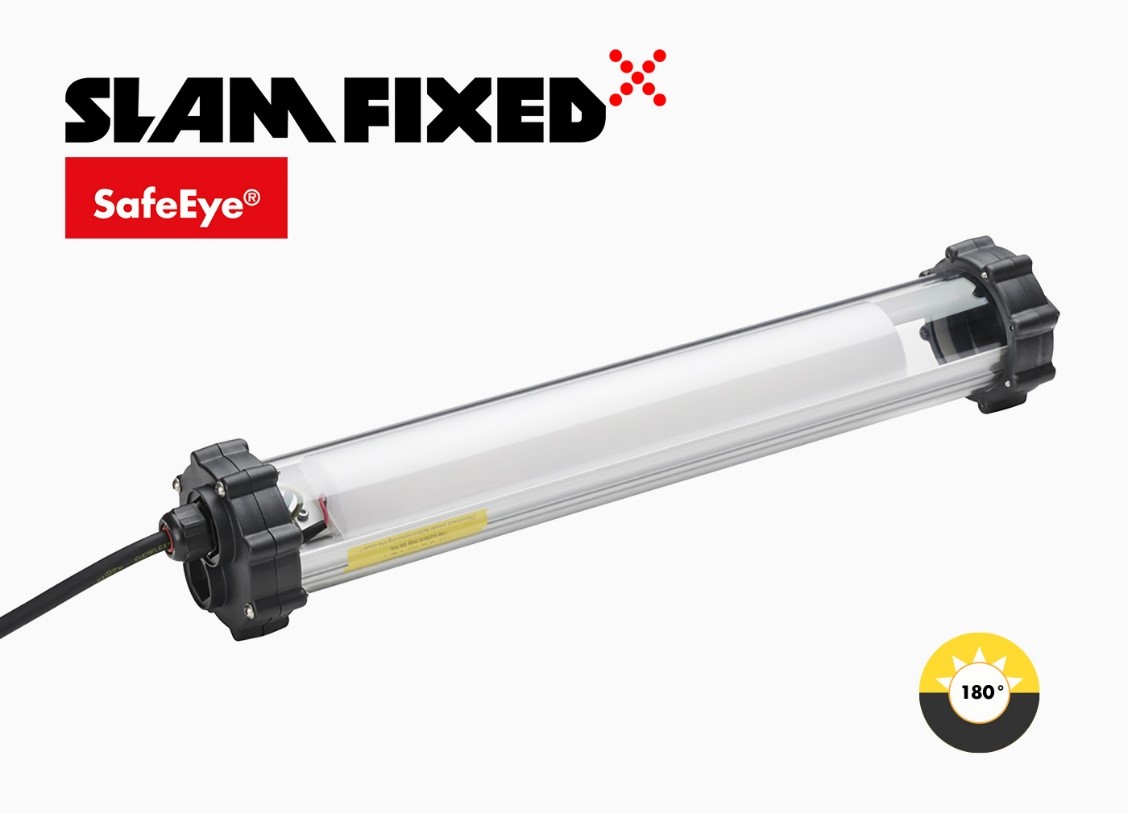 SLAM FIXED Novo 1LED
Here are a few advantages:
– ATEX and IECEx certification for zones 1 and 21
– T4 classification with operating range up to +55 °C
– Linear design with SafeEye technology
– Durable, high-quality LEDs and components
– Versatile assembly options
Building on the strong base of the SLAM FIXED Nordic luminaires, the Novo 1LED luminaire is the latest version in the fixed Ex luminaire portfolio. The 1LED Novo is extremely robust and weatherproof, able to withstand ambient temperatures from -40°C to +55°C.
For those who need a high level of light, there is also the SLAM FIXED Novo 2LED. This lamp has the same advantages as the Novo 1 LED but with two LED units with independent electronics. This causes the light output to approximately doubles (from 1595 lumens to 3140 lumens).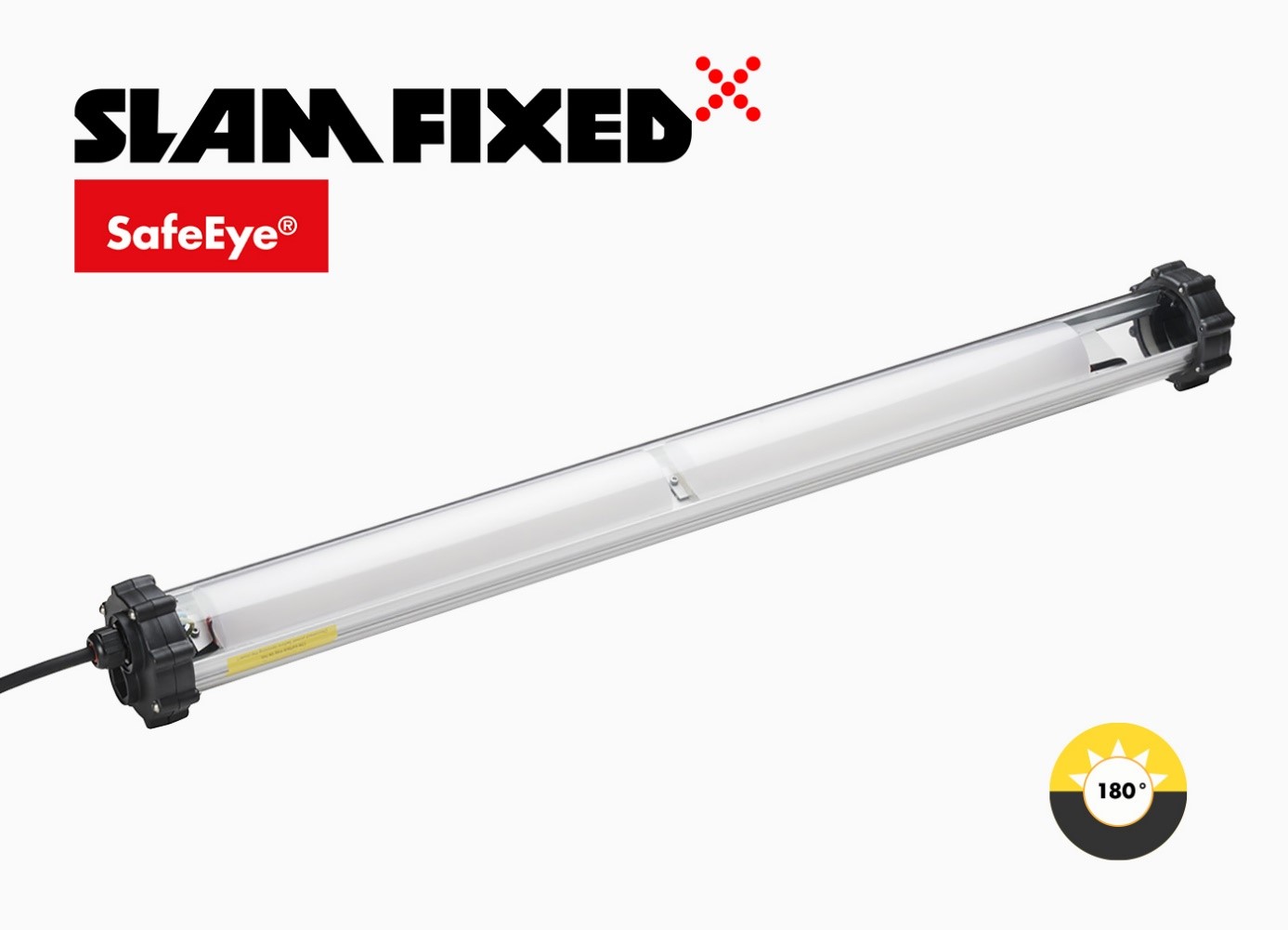 SLAM FIXED Novo 2LED
SLAM: temporary ATEX lighting
For more than 20 years, Atexor luminaires have been synonymous with robust, high-quality ATEX and IECEx work lamps for hazardous areas. Their durability and portability are unparalleled, and with the widest selection of assembly options and power supply voltages on the market, they are exceptionally flexible and can meet the needs of virtually any ATEX work environment. An example of ATEXOR's temporary lighting is the SEMIC SP Ex inspection lamp. The SEMIC SP is an extremely robust and versatile portable work-light for hazardous environments.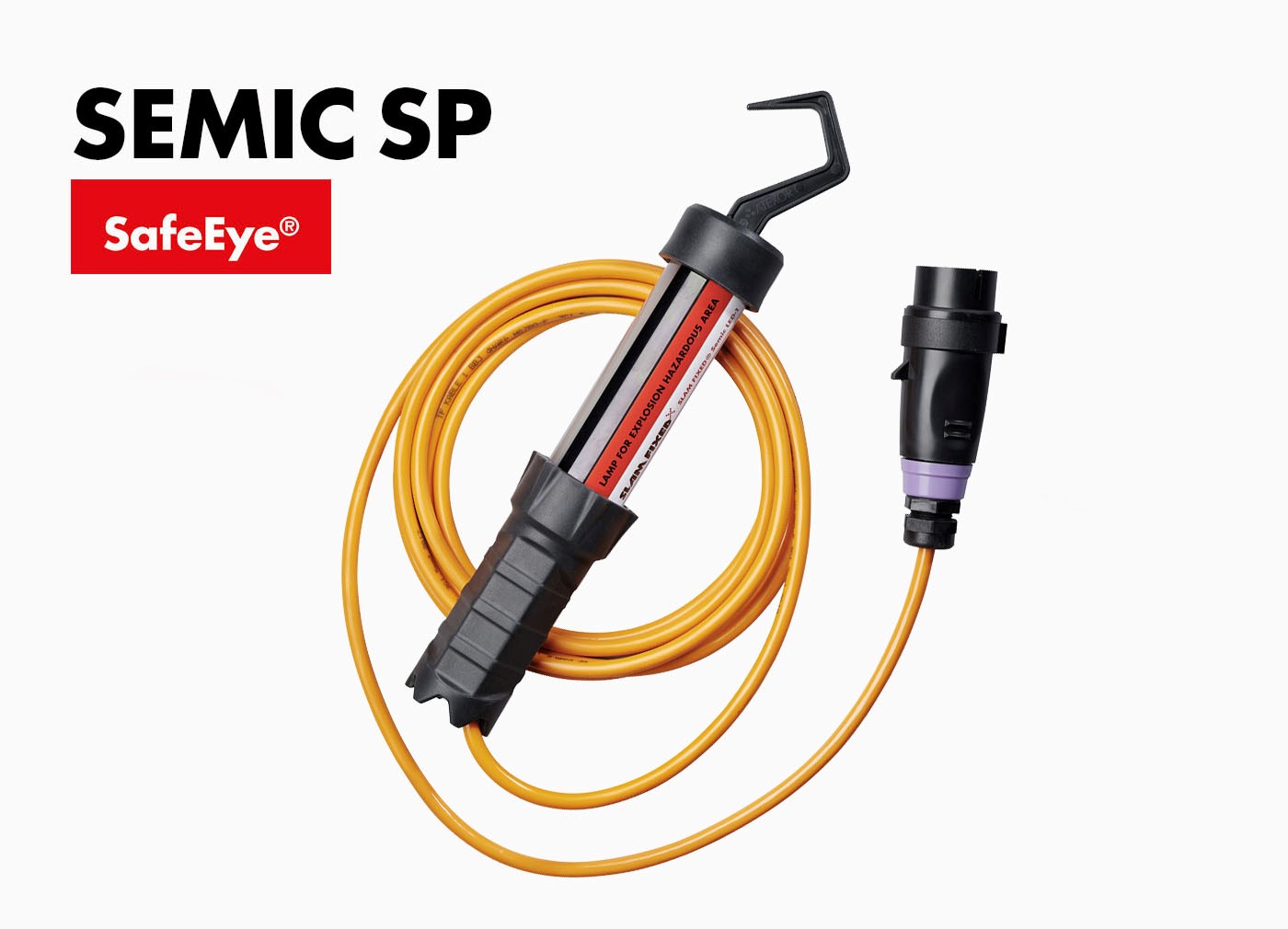 SEMIC SP Ex inspection light
A few advantages in a row:
Gas explosion group IIC, Temp. Class T5, IP68
Compact and robust construction
Exceptionally long, maintenance-free lifespan
Smooth lighting with high CRI for easy colour detection
For 24-48VAC and 110-230VAC Voltage
A versatile ATEX and IECEx portable lamp, the SEMIC SP is extremely compact and durable, with an exceptionally long lifespan. Replaceable protective foil makes it easy to keep the lamps clean and bright.
MICA: Rechargeable ATEX flashlights & torches
MICA rechargeable flashlights and torches provide reliable heavy-duty lighting and signalling in hazardous areas and harsh conditions. The Mica flashlights are used in a wide range of industries, such as transport, military and fire departments. Available with ATEX, IECEx and GOST certifications for Zones 0, 1 and 2. One of the most popular flashlight in the range is the Mica ML-808 flashlight AtexZone1,Z21 LED inc.1xNiMH.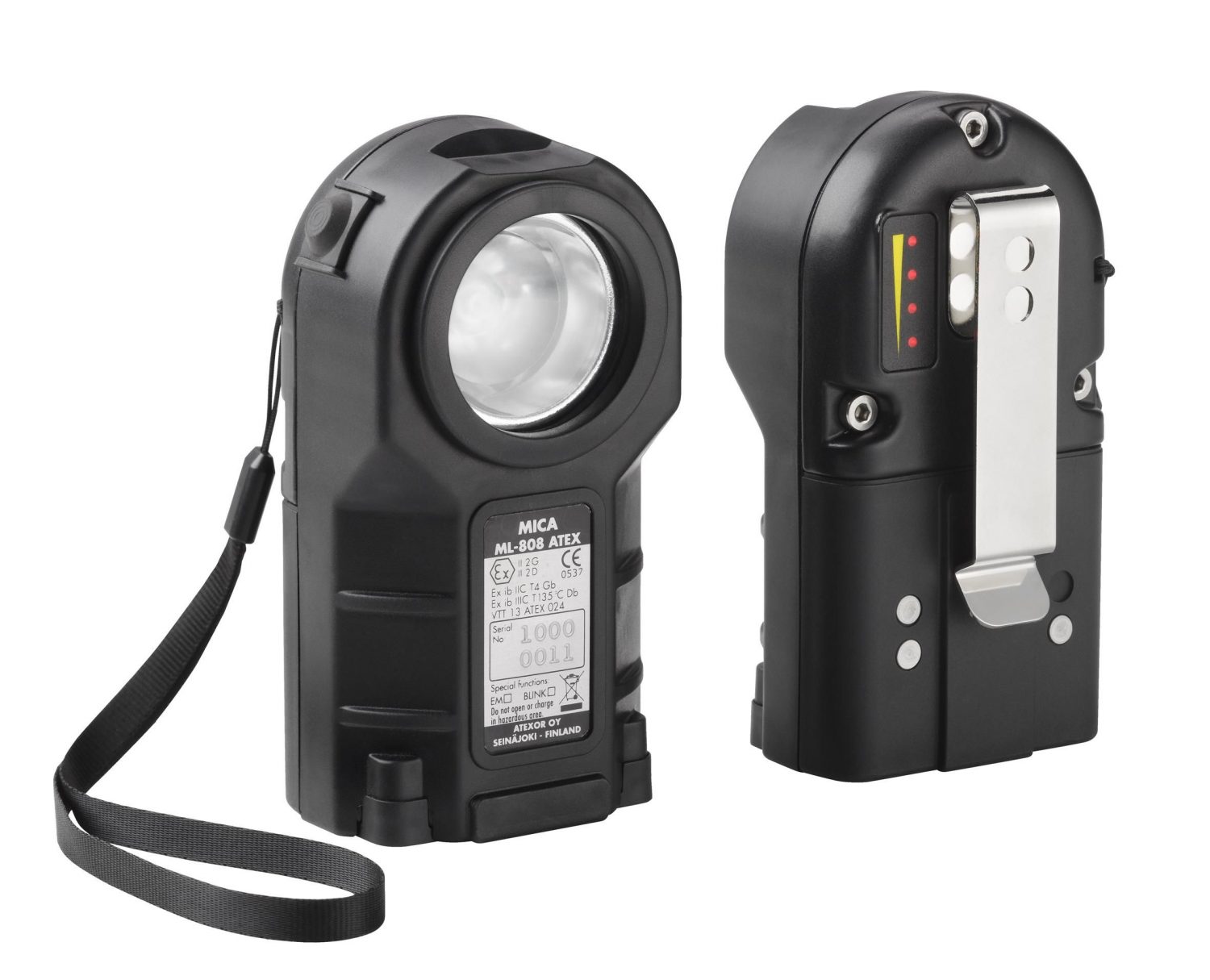 Mica ML-808 flashlight AtexZone1,Z21 LED inc.1xNiMH
This model is a dimmable flashlight (ML 808 series) that is rechargeable and durable. This model is also equipped with a strong lamp. With a dimmed output, the lamp has a burning time of 15 hours. The lamp also complies with the strict Atex requirements and is suitable for Atex zone 1.
Questions or more information?
At Elfa, we have extensive knowledge and experience that we are happy to apply to help you further. Besides ATEXOR, Elfa also offers many other brands of lighting that are ATEX certified. Would you like further advice in choosing the right lighting for you? Then you can contact the specialists at Elfa. More than 100 years of lighting experience is available, where ATEX lighting is an important component. Fill in your details in the form below and we will get in touch with you.